The Syttende Mai Celebration: Norway's Constitution Day
You are Invited to Celebrate with Us!
This celebration is sponsored by Sons of Norway's Grieg Lodge at its historic Norse Hall on 11th Ave and Couch Street in NE Portland. More details in the flyer below. Click HERE for a downloadable PDF. (Parade permit was not available for the parade to Lloyd Center due to police training sessions. But regardless, we will assemble before the lodge and have music and merriment!)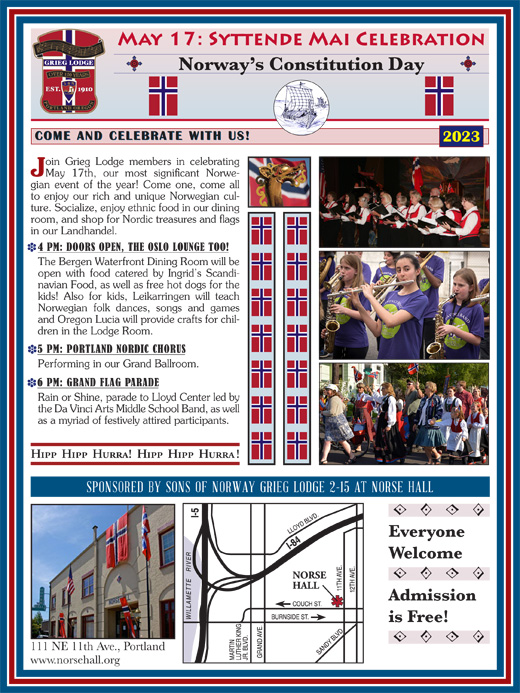 The Story of 17 mai — Norway's Constitution Day — Syttende Mai
At the beginning of 1814, Norway was a separate kingdom united with Denmark under King Frederik VI. Because he was involved in war on the side of Napoleon, the Allied Nations forced Frederik to cede Norway to Sweden by the Treaty of Kiel, January 14, 1814. Led by Crown Prince Christian Frederik, the Norwegians refused to be handed over to Sweden and her Crown Prince, Carl Johan. Declaring to be an independent country, a Constituent Assembly met at Eidsvoll from April 10 until it completed a constitution signed on the 17th of May. Christian Frederik was elected king.
Failing to get support from Britain, Norway engaged Sweden in a brief, but futile war, which ended on August 14, with the Convention of Moss. Allowed to retain her Constitution, with some modifications, Norway joined Sweden in a personal union until 1905 when she became a fully independent nation with her own king, Haakon VII. His son, Olav V, reigned until January 1991, when the third monarch of modern Norway, King Harald V, ascended to the throne of a free and independent country.
When Norwegians emigrated, they brought with them their love for the Constitution and the traditions of May 17. Celebrated around the world, the day marks a commemoration of independence, freedom and the second oldest written constitution in the world.