WELCOME TO PORTLAND'S HISTORIC NORSE HALL – HOME TO DREAMS AND MEMORIES SINCE 1928
We are located at 111 NE 11th Avenue and NE Couch Street in Portland, Oregon.
The hall was built in 1928 and designed by architect Elmer Feig
Norse Hall is managed by Norse Hall Association, a non-profit organization founded by the members of Grieg Lodge Sons of Norway in 1925 to build and operate a lodge hall for the benefit of Lodge members. Since its dedication in 1928, Norse Hall has been the home of Grieg Lodge, and has also served the community as an event venue and meeting space. Today, Norse Hall continues to fulfill the needs of Grieg Lodge, a non-profit, all volunteer fraternal organization, for its many social, cultural, educational and humanitarian activities, events and programs.
It is also available for rental to the community on a private basis. Our beautiful and historic building has several rooms from which to choose. Please contact us with any questions or to schedule tours of our facility. All rental inquiries should be directed to the Norse Hall Rentals Staff at 503-972-3329, or norserentalcoordinator@hotmail.com
Facility Details
Norse Hall is conveniently located just 12 blocks from downtown Portland, in the vibrant lower East Burnside neighborhood. The building is within moments of the Oregon Convention Center and Lloyd Center District, and easily accessible by bus, MAX, or car. Private off street parking is available in the lot on the west side of the facility during evenings and weekends, along with street parking in the vicinity.
Covering a quarter of a city block, the building is readily identified by its 1930s vintage neon Norse Hall sign – one of the most photographed landmark signs in the area.
The Grand Ballroom & Performance Stage
From the beautiful maple floor (replaced in 2008) to the original F.C. Baker chandeliers hanging from the 30-foot ceiling, the Grand Ballroom is the crown jewel of Norse Hall. It is a storied, much loved dance space – voted Best of the City by Portland Monthly Magazine in 2007, and has seen countless dances of all styles (swing, traditional Nordic, folk, old time, tango, waltz and more) through its 80+-year history. The stage easily accommodates everything from a 20-pc. big band to a jazz trio or concert soloist. A hand-painted backdrop of a Norwegian fjord scene has been a signature feature of the stage since the 1930s, along with the array of Nordic flags that hang along the ballroom walls. To quote most people when they enter the Ballroom for the first time, "Wow!"
Equipment: sound & PA system, stage lights and mid-size grand piano. Tables (rectangle and 60" round), and chairs are also available. Wi-fi active.
The Oslo Lounge
Framed by its original vintage windows, the Oslo Lounge is a light-filled, comfortable space featuring tables and chairs seating 50 and two leather sofas for comfortable lounging. A favorite gathering spot for meetings, cultural activities and socializing, the Oslo Lounge connects to the Grand Ballroom (as desired) and also offers a full-service, licensed bar operated and staffed by Grieg Lodge for lodge and special events on a periodic basis.
Equipment: surround sound system, projector & screen w/PC hook-up, limited cable television, wi-fi active.
The Lodge Room
The Lodge Room on the 2nd floor serves equally well as a cozy dance floor or spacious meeting hall. The maple floors and original wall sconces give the room period elegance, while daytime events benefit from the natural light supplied by the windows along two walls. At night, the glow from Norse Hall's vintage neon sign provides the room with its signature romance, making it a favorite space for Argentine tango dancers.
Equipment: sound & PA system, screen, tables & chairs, upright piano, wi-fi active.

The Library
The fully restored Grieg Lodge Library is the beloved heart of Norse Hall containing an extensive literary collection of Norwegian and English titles related to Norway and Norwegian immigration to the US. The room itself is widely considered the most beautiful in the Hall providing lodge members with the perfect space for book discussions, children's story time, author receptions and genealogy meetings. Because of its special nature, the Library is rarely rented.
Equipment: Small kitchen, tables, chairs, wi-fi active.
Special requests for small group rental should be made at least 30 days in advance. Visitors are always welcome during open library times.
The Nordic Room (no photo)
The carpeted Nordic Room on the lower floor of Norse Hall is a cozy, self-contained dining room decorated in Nordic colors and details, ideal for luncheons, dinners and meetings or classes. It includes private ladies' and gents' restrooms.
Equipment: Dining tables & chairs, upright piano.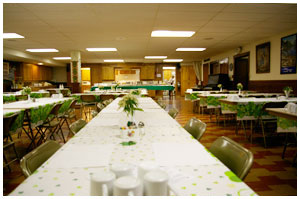 Bergen Waterfront Banquet Hall & Kitchen
With its signature Bergen waterfront mural and extensive capacity, the Banquet Hall is popular for a variety of food service activities, catered events or as an alternate dance area. There is handy street access with a ramp and street loading zone parking, and all the equipment needed for most types of food preparation and service.
Equipment: Full commercial kitchen, dining tables & chairs, audio & PA system, separate clean-up kitchen, portable dance floor.

NOTE: Not all the rooms in the Hall are available, such as the Barnerom and Landhandel.
The Barnerom
The Barnerom, or children's room, is located on the ground floor and used for children's play and Norwegian language activities by members and guests.
Equipment: Large whiteboard, television with video & DVD players & A/V hook-up, games.
The Landhandel Nordic Arts & Crafts Showcase
Located in the main lobby and guarded by the exquisite Dragon Gates, the Landhandel is a display and instruction space for the lodge's rich heritage of Nordic arts and crafts. Small classes in needlework, decorative painting and knitting take place here on a periodic basis, and during special events, the Landhandel is open for browsing.

The Restoration Fund
The Restoration Fund was established in the early 1990s by the members of Grieg Lodge to finance special restoration and beautification projects and acquisitions in Norse Hall that weren't covered by normal maintenance, renovation and repair activities. Restoration Fund projects have included locking library bookcases, ballroom wainscoting, lobby furniture, and period lighting.
Although donations to this fund are not tax deductible, support of the fund is one of the vital ways members and non-members alike can contribute to preserving and enhancing Norse Hall, an important cultural landmark, community resource and part of the city's historic legacy. Please make donations to: The Restoration Fund, c/o Grieg Lodge Treasurer, 111 N.E. 11th Avenue, Portland, OR 97232 Thank you!


Click here for our image gallery…